Contacting Support
If you are experiencing technical issues with a SORACOM service, or have an inquiry about your account or billing, please first refer to our FAQ pages to see if your issue or concern is addressed. In many cases, this may be the fastest way to resolve your issue.
If your issue is still unresolved, or if our FAQ does not cover your concern, please submit a ticket to our support staff following the directions below:
Login to the User Console

Click the Support menu at the top right, and select Contact us the support page
Click the Submit a request link located on the top right
Fill in all of the information in the request form, and click Submit to create a support ticket.

Please include as much detail as possible, including the times, occurrences, and business impacts

If your ticket concerns a particular resource, please indicate it (such as your Air SIM IMSI/ICCID, Group ID, VPG ID, etc.)

To help expedite support time, please limit your ticket to one inquiry if possible

Please also review the section below for an overview of the support process.
Once you have submitted a ticket, please wait for our support engineers review and respond. You can check the status of and any updates to your tickets from this page, as well as via emails sent to you from our support system.
If you have any further questions, please respond to the original ticket from the support center page. If we do not hear from you for a certain period of time, your ticket may automatically be closed and marked as "Resolved," however you may reopen Resolved tickets if you have additional questions.
You can also respond to our support tickets by simply replying to the support emails that you receive, however we may not be able to see your reply if it is sent from an email address other than the email address that you registered on Soracom. Therefore, we recommend using the support center page when replying to a support ticket.
SORACOM's Support System
SORACOM support utilizes a ticket system, and all inquiries are handled using this system.
Each inquiry is submitted as an individual support ticket, and all related correspondences will be stored within the ticket. When requesting support, please ensure that you submit or reply to the ticket that corresponds with your inquiry in order to prevent lost communication.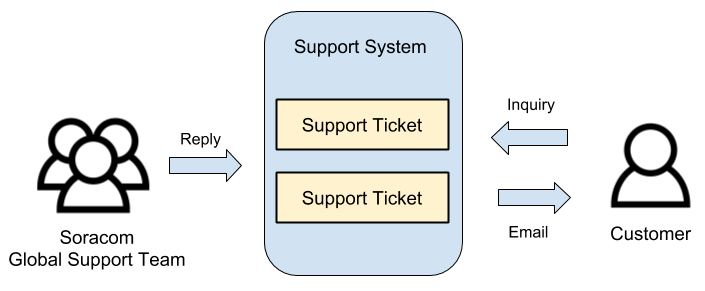 From the Creation to Closure
From the support center page, your tickets will be marked with one of three statuses:

| | |
| --- | --- |
| Status name | Description |
| Open | The ticket has just been created, or a SORACOM Support member is working to address the issue |
| Pending | A SORACOM Support member has responded to your ticket, and is waiting for your response |
| Solved | You or a SORACOM Support member indicated that your issue has been resolved, or SORACOM did not receive any response from you regarding the status of your issue |
If your ticket has been marked Solved but you require further assistance, you may reopen the ticket to continue the support process.